By Einas Salamin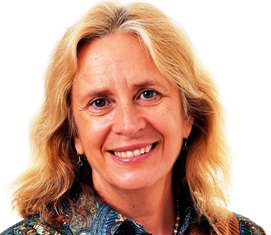 A new book edited by Dr. Cindy Gunn, director of the Faculty Development Center and associate professor of English at the American University of Sharjah, documents techniques used by the university's educators to improve student learning.
Enhancing Teaching and Learning in Higher Education in the United Arab Emirates: Reflections from the Classroom, published by Cambridge Scholars Publishing, is a collection of 15 essays focusing on the Scholarship of Teaching and Learning (SoTL) and its impact on the professors and students involved in SoTL research projects.
Using a reflective and scholarly approach, the authors from all four colleges at AUS, explore and reveal innovative teaching methods used in their classrooms to address students' needs and ensure comprehension of the assigned material.
A theme in the book, Gunn noted, is the focus on both the professors' and the students' reflections in isolating teaching methods that are more conducive to learning. Gunn explained that the book highlights the importance of taking risks in the classroom, using new teaching techniques, and employing students' feedback in order to create better learning environments, and ultimately better learning outcomes.
Gunn noted that the contents also emphasize keeping students engaged, with examples including the use of technology, games, and active learning techniques. It also considers the challenges faced by educators in various fields, such as students' attitudes toward homework, the difficulties inherent in teaching controversial topics, and the delayed relevance of material covered in classes, Gunn said.
But she added that the chapters were meant to go beyond simply describing practices educators found successful. Rather, she noted, as with any form of scholarship, they illustrate how the findings supplement trends in existing literature, and provide rationale for favoring particular methods across many disciplines, including English, biology, chemistry, math, business, engineering, architecture and design.
Gunn said her conviction that reflecting on teaching and researching the impact of the techniques and methods employed in the classroom has the capacity for continual improvement for both the professors and students encouraged her to pursue this project.
Einas Salamin is a Mass Communication major at the American University of Sharjah.
For more information about American University of Sharjah, please visit www.aus.edu