By Naila Tariq
In a constantly changing world, with evolving technology and different mindsets, it can be difficult to hold the attention of today's students. However, AUS has managed to just that with Active Learning Spaces, a new and exciting way to teach.
Two years ago, eight professors, from the English and Writing Studies Departments at the American University of Sharjah attended a seminar on flipped learning at the Faculty Development Center. They were inspired to introduce Active Learning Spaces, which are now used to teach academic writing a whole new way.
Active Learning Spaces, Assistant Professor and Department of Writing Studies Head Dr. Bruce Gatenby explained, allow for a more engaging learning experience, with "very little lecturing." Instead, class time is used for group work, peer review, or in-class writing, made easier with the technology in the rooms.
An Active Learning Space has modular furniture – tables and chairs that can be moved around with ease – to help facilitate group activities and discussions. The professor makes use of a large touch screen monitor instead of projected slides, through which he or she can critique essays in real time or present other instructional materials. Additionally, there are six smaller screens with laptops connected to them which students can use to show their work. They can also connect their own computers, tablets, or even phones to the displays. Even the carpets are sound-dampening to avoid the noisiness of moving furniture as well as to prevent the buzz of discussions and activities from reaching other classrooms.
About 24 classes are making use of the learning spaces this semester, said Gatenby, namely Academic Writing I and II (WRI 101 and 102) and, as a new experiment, Basic Academic Writing (WRI 001). According to Gatenby, since the introduction of these specialized classrooms students have been doing better, with higher grades and fewer absences.
"They want to come," said Gatenby, "because they actually get to do things."
That doesn't mean it was always easy, however. Gatenby admitted that the first semester the College of Arts and Sciences was difficult since this was a completely different form of teaching. "There was a lot of trial and error," he said.
In addition, professors had to be trained to use the technology, with the department's IT technician holding both individual and group tutorials. Training is required, Gatenby emphasized. "You can't just go in cold."
The original eight professors who started the program also formed a committee and held meetings to discuss what worked and what didn't.
Overall, Gatenby said he felt that almost all courses could benefit from using the Active Learning Spaces. In fact, more professors and departments are finding out about them, he added, and they have expressed interest in trying them for their own classes.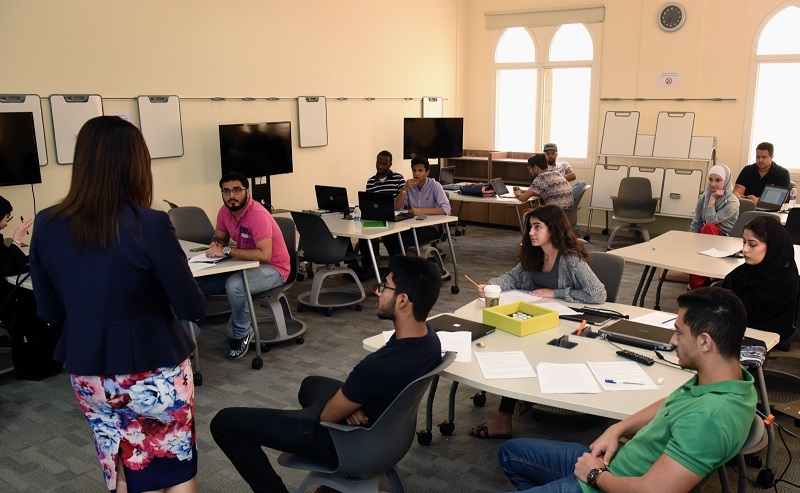 However, he acknowledged that it isn't for everyone, as active learning "fundamentally changes the way you teach."
"You have to be comfortable with a bit of chaos," he added.
There are currently three Active Learning Spaces on campus: two in the Language building and one in the Physics building. Construction of two more, one in the New Academic Building and another in Physics, is set to begin soon and will be completed in time for the Fall semester, said Gatenby. While he hopes that more will be added over time, the department head acknowledged that they are extremely expensive to build.
Naila Tariq is a student at American University of Sharjah.
Visit www.aus.edu for more information about American University of Sharjah