By Naila Tariq
While earning an education is extremely important, learning how to apply the knowledge you have gained is even more so. American University of Sharjah recognizes this, and tries to provide students with opportunities to apply what they've learned through both internal and external programs, events, and competitions.
One such event is the National Model United Nations, an international conference run by the National Collegiate Conference Association. It is the largest and one of the most prestigious of its kind, with conferences in New York City, Washington, DC, the Northwest, and multiple international locations such as France, China and Ecuador.
This year, AUS sent a team of seven to the New York edition of the conference, which was held from March 27 to 31, 2016. The delegation consisted of international studies students Hanan Arab, Reem AlNuaimi, Mehak Ayaz, Hend Mitkis, Nasser Anwahi, Ahmad Azari and Omar Khattab, all of whom were selected through an interview process by the Student Leadership Program (SLP). They are all also active participants with SLP and/or the AUS Model United Nations.
The team won the Outstanding Delegation Award, the highest possible recognition, out of 2,500 delegates from 230 universities. AUS was the only participating university from the GCC, adding prestige to both the delegation's involvement and their win.
They received the award at the March 31 concluding ceremony, at the General Assembly Hall in The United Nations Headquarters in New York.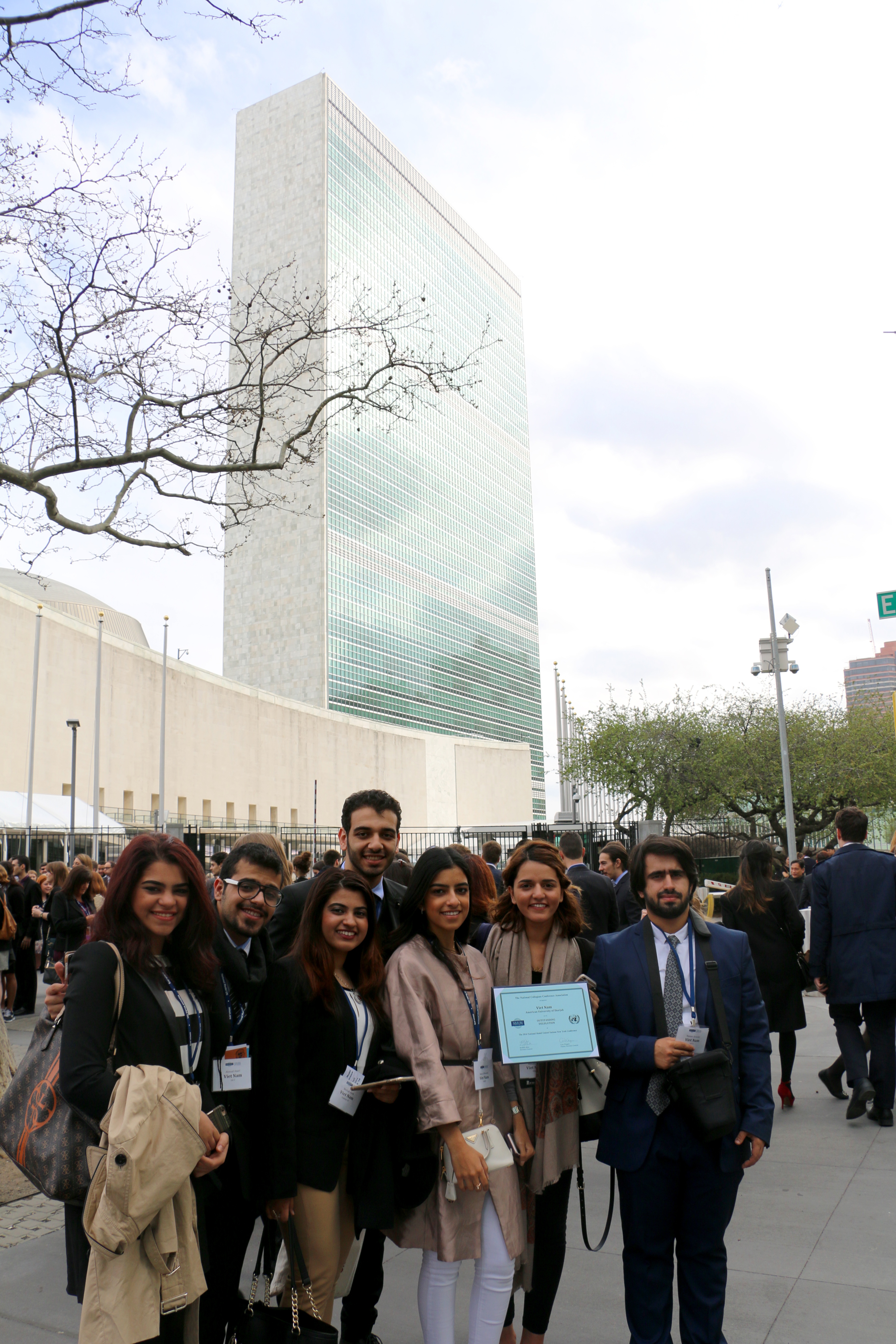 At the conference, participants act as model diplomats. Each delegation is assigned a country and must work with their team to solve issues related to it, then represent their state through different committees. AUS was assigned Vietnam.
"It looks simple, but even with MUN experience it's a whole different program," said delegate Hanan Arab, who also trained the group.
Arab noted how intense the event is. Participants have to be on their feet, talking, debating and negotiating for all five days. Additionally, both undergraduate and graduate students compete with each other.
"No one is below you. They're either equal or better than you," she said. In that high-pressure environment, "even drafting a two-page paper is challenging."
The delegate said that the conference teaches new skills no matter one's prior experience, as there are different positions one can hold. However, one of the main takeaways from the event is learning how to work and brainstorm with people from different communities and backgrounds.
Naila Tariq is a student at American University of Sharjah.
Visit www.aus.edu for more information about American University of Sharjah