Speaking to students and faculty in an American University of Sharjah lecture hall on Tuesday, April 25, Jenifah Abu-Hassan, Senior Instructor at the American University of Sharjah (AUS) Achievement Academy, said she used her experience in teaching and cooking to help refugees in Northern Greece.
Speaking at a forum sponsored by the AUS Faculty Development Center, Abu-Hassan said she had always felt fortunate, and wanted to give back to society. She said she looked for places to volunteer, and decided to go to Greece following a suggestion by her daughter.
Through YallaHelp, a non-governmental organization her daughter co-founded, Abu-Hassan found a way to volunteer in Greece. She spent her winter break from mid-December to early January in Greece.
When Abu-Hassan arrived in Thessaloniki, a city in Northern Greece, she saw both homeless refugees and refugees from camps, who were everywhere during the day because they were not allowed to find jobs. At night, those from the refugee camps would go back to the camps for the night. She noted that only refugees from Syria, Iraq and Afghanistan were able to gain asylum into other European countries after being interviewed. Refugees from other countries, such as Congo, Pakistan, and Iran, had a harder time getting asylum interviews, and many lived on the streets.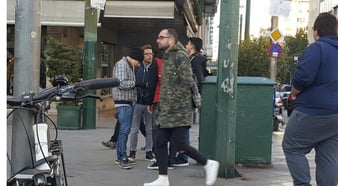 "I visited Camp Kaloxari, where I hoped to teach," she said describing the conditions in the camp as dismal, and that "migrants lived in huge cold warehouses filled with tents that provided little insulation from the extremely cold weather. Shipping containers named 'ISO' boxes were used for make-shift classrooms as well as soldiers' guardhouses."
Abu-Hassan said she encountered "bureaucratic red tape that caused me to change my plans to teach refugees, and I decided to cook for them while waiting for things to work out for me to start teaching." So she joined Soul Food Kitchen, where she cooked Middle Eastern-inspired dishes for 150-200 refugees.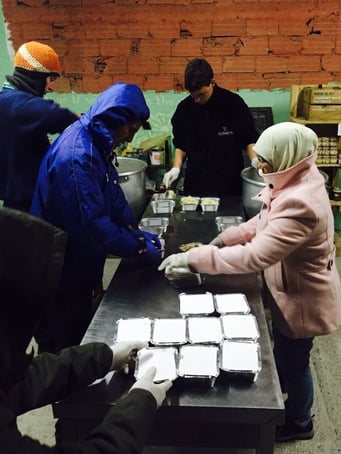 After two days of cooking for Soul Food Kitchen, she had a breakthrough and was placed in a small classroom within an abandoned office building to start teaching. Ten refugee families lived on a single floor.
"Here I taught both children and young adults. Their English language skills were poor. So I taught them vocabulary, common verbs, as well as basic anatomy so they could communicate with doctors in case they had medical problems," said Abu-Hassan. "I also taught them to write and say numbers, and noted that numbers were important when these students went shopping and translated for their parents. On average I had 12 children and 10 adults who attended my classes over the three weeks period I was there. So I continued cooking in the afternoon and teaching in the evening."
"While there I faced various challenges volunteering in the classroom mostly due to electricity problems. Volunteers had to choose between having either light or heat, because turning one on would require the other to be off," added Abu-Hassan.
She also said that scheduling was difficult, and that some of the students did not attend classes at times because they and their parents went to Athens to interview for asylum.
She said that a few volunteers were difficult to work with as they were territorial about their positions, refusing to allow other volunteers to observe them and learn from them.
Abu-Hassan added that transitioning back to her life in the United Arab Emirates was difficult due to the lack of debriefing. She said she did not think one should move from the poor conditions of a refugee camp and back to their own life without psychological services facilitating the transition.
Addressing those who may be considering doing the same, her advice was, ""Go there. Help people, but at the same time, don't neglect your well-being."
Despite these challenges, she said that she had met amazing people during her time in Greece. She said she met volunteers, both young and old, from all around the world, including countries such as Spain, Bosnia, France, Germany and Luxembourg. She also said that she met refugees who, despite their predicament, were warm and kind towards her. She added that the donors were generous, and provided the NGOs with everything they had asked, from mundane items such as rubber gloves and kitchen items, to various materials and equipment.
"The overall experience was good and I am looking for a possibility of doing it again," concluded Abu-Hassan.
Visit www.aus.edu for more information about American University of Sharjah.
More Photos