By Naila Tariq
Entrepreneurship has become a hot topic in the UAE, with the past few years seeing a rise in small and medium enterprises (SMEs). To keep up with this trend, American University of Sharjah (AUS) and Sharjah Entrepreneurship Center (Sheraa) has signed a memorandum of understanding (MOU) to further boost economic development in the emirate of Sharjah. The agreement will help establish a culture of entrepreneurship and support the creation of a framework to enhance Sharjah's reputation as an entrepreneurial leader in the field of innovation in the region.
Sheraa is an initiative by the Sharjah Investment and Development Authority (Shurooq), designed to develop people's business ideas and help the UAE achieve first place in international entrepreneurship. Shurooq Chairperson Sheikha Bodour Bint Sultan Al Qassimi said that the center aims to be a platform to share new ideas and help youth make a difference in the community.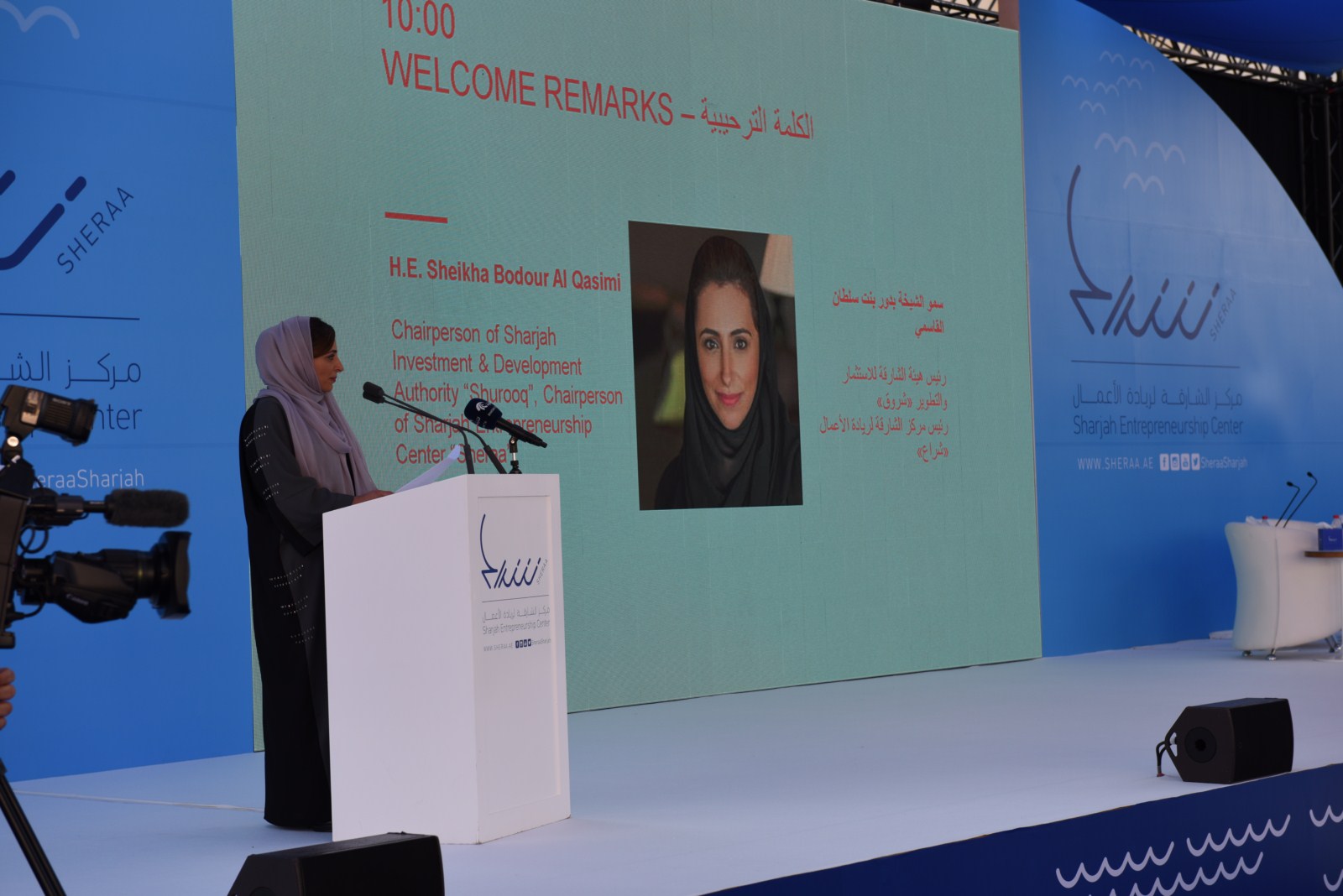 Sheraa is headquartered at American University of Sharjah, located in the library building. Najla Al Ansari, the center's Marketing and Outreach Manager, said AUS was chosen because of the concentration of talented students, the university's position as one of the top educational institutions, and the desire to "instill a culture of entrepreneurship" in the youth. Eventually, the Entrepreneurship Center plans to expand its space at AUS and to also have multiple "hubs" throughout Sharjah, plus one large warehouse facility to act as a home base.
There are four stages to Sheraa's program: Inspire, Learn, Exhilarate, and Grow. "Inspire" focuses on creating awareness, both about the center itself and about entrepreneurship in general. This initial phase is meant to help people generate ideas and think about how they can apply those ideas and mold them into a full-fledged business. Additionally, Sheraa is trying to spread the word about what the center is all about and what it does. Towards this end, Sheraa officials will be giving speeches in classes throughout University City and hold open house sessions at the center. At AUS, the Sharjah Entrepreneurship Center has also connected with the School of Business Administrations Dean's Business Team, the Student Council, the Office of Student Affairs, the Emirati Cultural Club, and the Film-makers Club, and they also intend to reinstate the Entrepreneurship Club. All this reflects the center's desire to build a network and involve as many young minds as possible in its development, so it can better cater to their needs.
The "Learn" phase involves hosting workshops, panels and "boot camps" that will help would-be entrepreneurs to develop the skills they will need for their business. For example, Al Ansari mentioned an eight-week coding workshop to be held on Saturdays. The ordinarily AED 1,700 course will instead cost interested students a one-time fee of AED 200, with Sheraa bearing the rest of the cost. Similar events will continue to be sponsored by the center.
Next is the "Exhilarate" stage. This is a three-month program aimed more at seniors who are about to graduate, in which they turn their ideas into a concrete business plan and work out any kinks. Once students have made it through this stage, Sheraa funds them and provides mentorship, guidance and access to resources to help their idea become a reality. However, Al Ansari stressed that this stage would not be introduced until later. For now, she said, the emphasis remains on creating awareness and letting people know that they're out there.
Last is the "Grow" phase, to be implemented one year down the line. This is for companies that have already been set up and are looking to expand their business. All four stages encompass Sheraa's goal of helping start-ups as much as it can. The general manager explained that even the center's name reflects their mission. Sheraa means "the sail of a ship" in Arabic, and symbolizes the riskiness of starting a business through the metaphor of a ship at sea having to overcome large waves and storms. The Sharjah Entrepreneurship Center is not only trying to make the process smooth sailing, but also to create, as Al Ansari said, "the next wave of entrepreneurship."
Sheraa is currently hiring. According to Al Ansari, it is not the CV that matters but rather energy, enthusiasm, and a desire to learn and grow. To get in touch with Sheraa, please visit them at their office at the American University of Sharjah campus, near the AUS Library and just across from the AUS Bookstore or visit their website.
Naila Tariq is a student at American University of Sharjah.
Visit www.aus.edu for more information about American University of Sharjah