By Ismaa Al Aloul
Students transitioning from high school to university are faced with multiple challenges. Fortunately, American University of Sharjah offers help to make this transition easier. Advising at the AUS Academic Support Center (ASC) is a good place to start for any struggling student, any student exploring majors, or any student interested in developing their skills. Students who are facing academic challenges can work with ASC advisors to develop the skills needed to succeed in their academic careers. A wide variety of services are offered at ASC to support students.
Exploring Majors
Students who are still exploring what major to pursue can contact the Director of the ASC, who is the Academic Advisor for Undeclared students and can assist with information about admission requirements for the various colleges. ASC also offers the Strong Interest Inventory, a tool that measures interest in various fields of study. Students can take this questionnaire to help them with their education and career path search.
Academic Accommodations for Students with a Disability
Whether a student has a physical, mental or learning disability, ASC will work with them to provide equal access to educational opportunities at AUS through appropriate academic accommodations. Any student with a disability wishing to receive accommodations should apply at the ASC by the fifth week of classes. Please contact ASC for information on the application process and the accommodations offered.
Study Skills Workshops
Study skills workshops are held regularly each semester covering a wide range of topics. Students who are trying to create a routine suitable for university are highly encouraged to attend these workshops in order to improve and develop skills such as note taking, test taking, time management, goal setting and much more. One of the newest workshops to be offered starting this Spring 2016 semester is the Awesome Apps workshop, which will introduce students to a number of smartphone and tablet apps that will help them get through course work the smart way.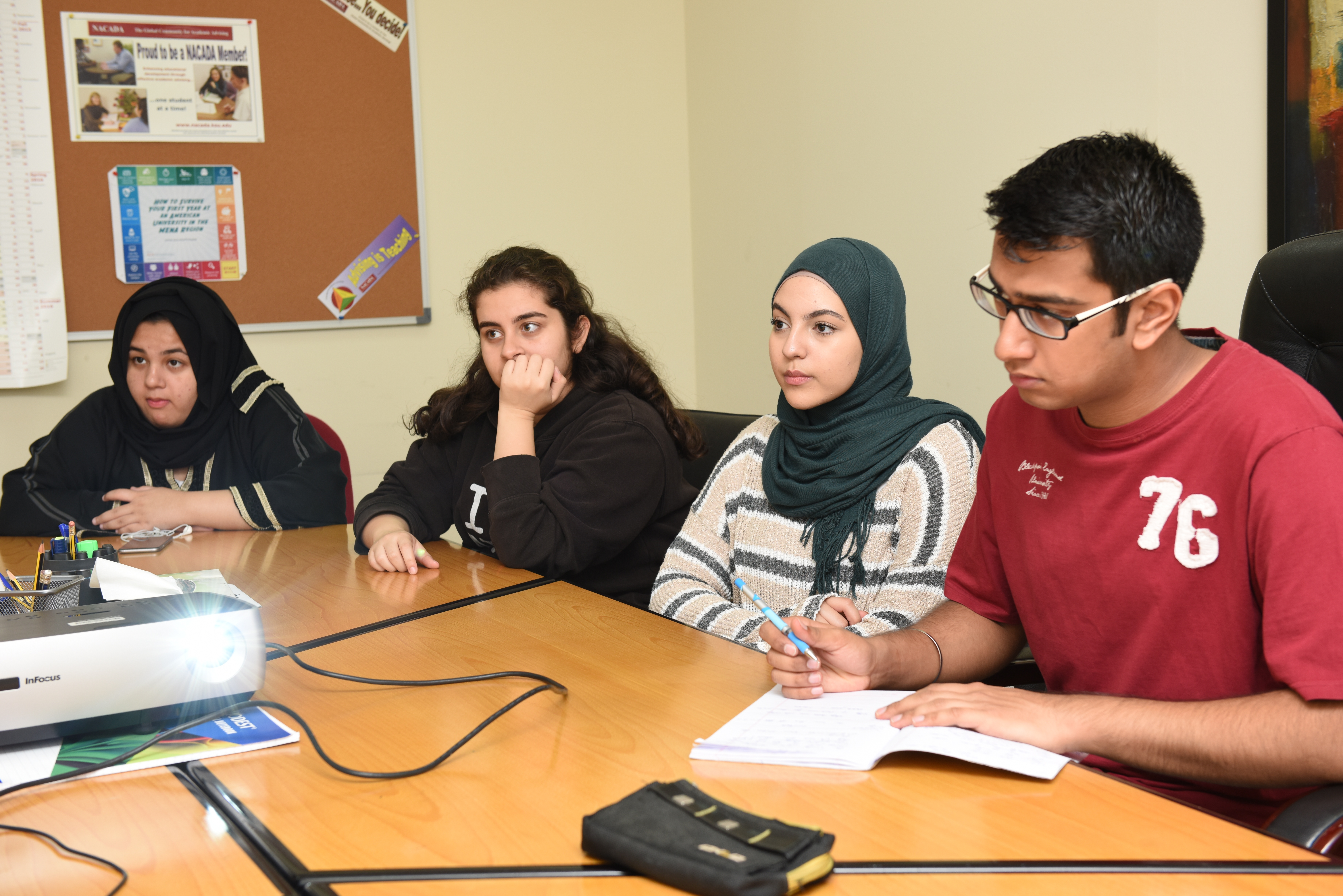 Peer Advisors
One distinctive service that ASC offers is the Peer Advising program. Peer Advisors are current AUS students who are academically successful. They are available to meet students to recommend strategies for success in their specific college at AUS, answer any questions from a student's perspective, and provide mentorship for undergraduate students. Please contact ASC to find out the Peer Advisors' availability.
Advising
ASC advisors help students clarify their educational goals, develop study skills and educational plans, and connect to appropriate resources. ASC advisors come from a variety of backgrounds—including counseling, mentoring and coaching—and can relate to students and guide them as they make academic goals and decisions. Advisors use various tools to assess students' study skills, such as the Learning and Study Strategies Inventory (LASSI), and can use that information to support the student. Students on probation are required to meet with an ASC advisor to fulfill the requirements of their probation contract.
Campus Resources
Besides the in-house services mentioned above, ASC collaborates with many other departments and can refer students to a variety of campus services. The following free services are available on campus:
Mathematics Learning Center (MLC)

: One-on-one math tutoring. A MLC tutor is available weekly in the ASC.
Writing Center: One-on-one writing assistance and writing workshops. A Writing Center tutor is available weekly in the ASC.
AUS Library: A study space full of resources. The library recently introduced an accessibility workstation with assistive technology for students with disabilities. A Library Primer workshop is presented in the ASC each semester for students interested in learning more about how to use AUS Library services.
Faculty office hours: All instructors hold weekly office hours (listed in the course syllabus), which give students the opportunity to seek help directly from the instructors.
UPA 200: This university preparation course is mandatory for freshman students on academic probation and is offered through the Achievement Academy.
University Counseling Services (UCS): The UCS helps students achieve their educational goals, learn the processes of problem solving and decision making, enhance their capacity for satisfying interpersonal relationships, define their career goals and maximize the ability for continued emotional growth beyond their educational experience. ASC refers students for counseling when needed.
Career Services: Offers many services to guide current students in terms of career planning and preparation for life after graduation.
Faculty Development Center: Offers ongoing workshops covering topics that are of interest to faculty as well as students. These are listed on the Events section of the AUS website.
Knowing your campus and the resources available is a key to success. The ASC collaborates with these departments because we believe that they all provide valuable assistance to make your experience at AUS stress-free, productive and enjoyable.
ASC recognizes that sometimes students who were academically successful in high school struggle with the transition to university. Regardless of the reasons why a student may be struggling academically, ASC is here to help students improve their academic performance. Students are highly encouraged to be proactive in their learning experience and to make use of the resources available to help them. Seeking help early is advisable. To find out more about any of the services offered at ASC, check out our website: www.aus.edu/asc. You can call +971 6 515 2180 to schedule an appointment with an ASC advisor. Visit us in the Main Building, room M-M01.
Ismaa Al Aloul is the Senior Academic Advisor for the Academic Support Center at American University of Sharjah.
Visit www.aus.edu for more information about American University of Sharjah